RAJ CHAWLA
Investing, Trading & Speculation in India
In this book, I have covered the fundamentals of Investing, Trading and speculating with case studies and real-life Stories to help explain the context in a relatable way. Most of the case studies, stories, and commentary are based out of my experience in the rough-and-tumble world of Financial Market.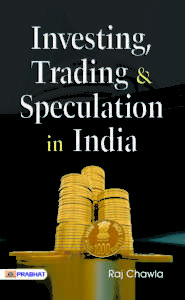 Reviews
The book is an attempt to demystify the psychology of investors, traders, and speculators dealing in the stock market. It is also an insight into how institutional investors operate in the financial markets.
The quality and the quantity of the content is overwhelming. A very easy and entertaining read, authored by one who has see many cycles of ups and downs of the financial markets
One of the best Investing books I read so far which has given an elaborated framework by combining technical and fundamental analysis
This book covers all the gambits of the Capital Market.  This is an insight into the stock market, how its investors – retail or institutional operate. It is packed with near real-life examples of investors, traders, and speculators; about their making the money as well lose it to an extent that they come on the road.
A must have book for both matured and immature investors, traders and speculators. The author has done a logical systematic evaluation of the present day business environment and its effect on the stock market.
The book is well written, very precise and informative. Everything has been placed with a certain perspective.
The book is beautifully written in simple understandable terms for all investors and traders be it beginners and experts of the complex stock market. Mr. Chawla is a professional of the market and this book fills a huge gap on the bookshelves for the stock market knowledge.
A beautifully written book by Mr. Raj Chawla. This book is simple to understand, for all participants of stock markets, traders, investors, and speculators alike. A very easy and entertaining read which delves into the past about how our stock markets have evolved. Must Read in my opinion.
Ideal book, for all stock market learners', this book will help you to create an ideal based for your future investment in the market.
My personal experience is that am completely addicted to this book, so once I received this book, I called off my every single night, by reading Two chapter's from the book.
"Speculative side of money-management which sometimes seduces people
adventurous or foolhardy enough to take a leap to riches, or descend to penury in
one fell swoop."